<![if !vml]>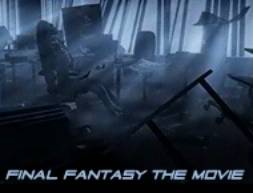 <![endif]>
<![if !supportEmptyParas]> <![endif]>
<![if !supportEmptyParas]> <![endif]>
Lista de Canciones (BSO)
<![if !supportEmptyParas]> <![endif]>
The Sugoi (una revista japonesa) ha puesto la lista de canciones y la carátula del soundtrack de Final Fantasy: The Spirits Within. El soundtrack de la película, contiene 60 canciones orquestales compuestas por Elliot Goldenthal y dos canciones vocales: Una por una cantante Francés-Canadiense llamada Lara Fabian y otra por la banda Japonesa L'arc en Ciel. (La canción de L'arc en Ciel's está en Inglés en el soundtrack y en la película, aunque en la versión de lengua Japonesa está como una canción en Japonés).
<![if !vml]>

<![endif]>
The Spirit Within

Race to Old New York

Phantom Plains

Code Red

The Kiss

Entrada

Toccata and Dreamscapes

Music for Dialogue

Winged Serpent

Zeus Cannon

Flight to the Wasteland

A Child Recalled

The Eighth Spirit

Dead Rain

Blue Light

Adagio and Transfiguration

The Dream Within (Lara Fabian)
Spirit Dreams Inside (L'arc en Ciel)
Reportajes conflictivos han citado que las canciones de "The Dream Within" y "Spirits Dreams Inside" son el tema de los créditos. Los Fans descubrirán que versión es la usada en EEUU cuando sea el estreno de Final Fantasy: The Spirits Within el 13 de Julio.
<![if !supportEmptyParas]> <![endif]>
<![if !supportEmptyParas]> <![endif]>
Copyright © 2000-2001 Lagunamov2k.es.fm
<![if !supportEmptyParas]> <![endif]>
<![if !supportEmptyParas]> <![endif]>
<![if !supportEmptyParas]> <![endif]>